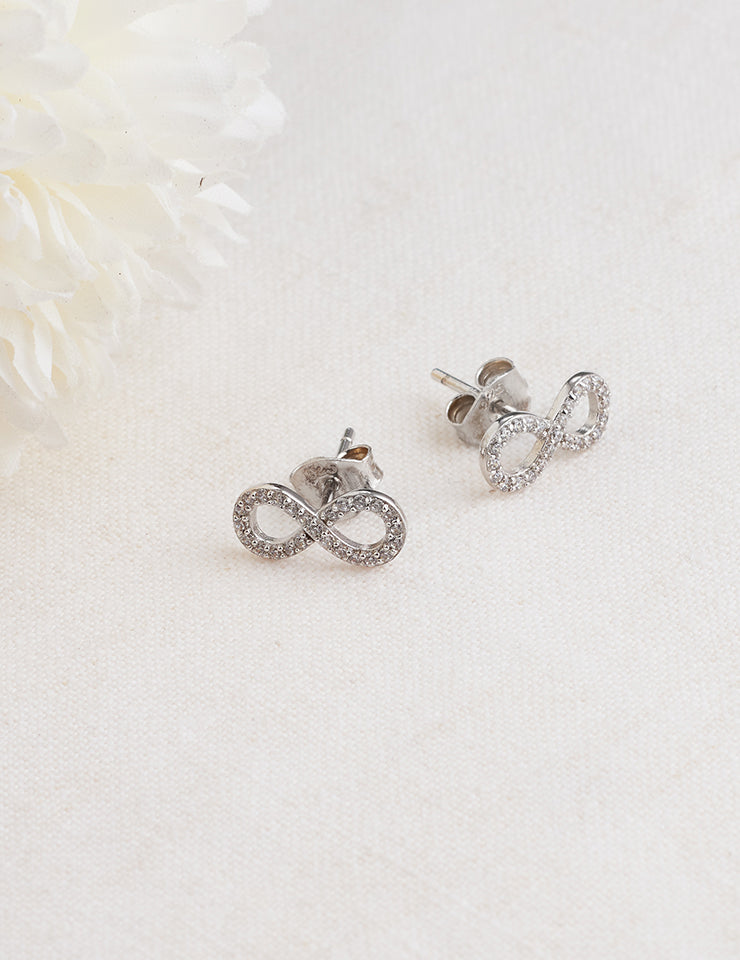 Stud earrings to suit every occasion
Stud earrings are a very versatile piece of jewellery.
While they can be plain in style, they can also be glamorous, featuring gemstones like diamonds, pearls, green amethyst, ruby, alexandrite, morganite, sapphire, and garnet to name a few. You can purchase stud earrings in a range of metals including sterling silver, white, rose and yellow gold. Your budget may determine which option you go for – some people want a diamond pair of stud earrings in white gold, while other people are happy to go with a pair of sterling silver cubic zirconia stud earrings – it all comes down to budget and personal style. A pair of stud earrings makes an excellent gift – whether for a birthday, anniversary, Valentine's Day or Christmas!
Diamond stud earrings to last a lifetime
A beautiful pair of diamond studs will become a family heirloom and will be a long-lasting classic addition to your jewellery wardrobe.
Simon Curwood only uses the finest of diamonds in our diamond stud earrings. Diamond stud earrings make the best investment, they are something that you will wear time and time again, with any outfit and on any occasion.
Why Choose Simon Curwood Jewellers?
luxurious collections
Combining classic collections, limited editions and signature designs, Simon Curwood Jewellers has the largest collections of jewellery in Australia. 
World-class design concierge
Simon Curwood Jewellers offers the ultimate luxury experience with an exceptional creative team ready to create the engagement ring of your dreams.
Express production
Our express production time means you receive your custom made engagement ring sooner. Engineered with excellence and ready within 3-12 weeks.
Nationwide delivery
Simon Curwood Jewellers offers free secure shipping within Australia for all orders over $99 or pick up your purchase using our click and collect service.
What are stud earrings?

Stud earrings are a small earring, generally no bigger than the earlobe. They usually consist of a head (which often holds a gemstone), attached to a post which goes through the earlobe and is held in place with a metal backing. Stud earrings are the most classic type of earrings – they go with all outfit styles and occasions and suit all face shapes.
How should I pick diamond stud earrings?

Picking a pair of diamond stud earrings is a very personal experience. Our jewellery experts can help you select the best pair of diamond studs for your budget, ensuring you get the best sparkle possible! You may prefer a certain shape of diamond stud (for example, a round brilliant, marquise, or emerald cut), or a particular metal type (white, rose or yellow gold) – whatever you are after, our specialised team can help you acquire the perfect pair of diamond studs.
What is a good carat size for diamond stud earrings?

Again, the best size carat for your diamond stud earrings will come down to personal choice – some people prefer dainty, delicate diamond studs, while others prefer a pair of 2ct diamond studs. The occasion, budget and personal style of the person will always determine what size carat is best for their diamond stud earrings.
What gauge are stud earrings?

Most earlobe piercings are around 20 gauge to 18 gauge. The average stud earrings are size 20 gauge. Gauge refers to the thickness of the post/ring that goes through the piercing.
FREE SHIPPING
Simon Curwood Jewellers offers free shipping within Australia for all orders over $99