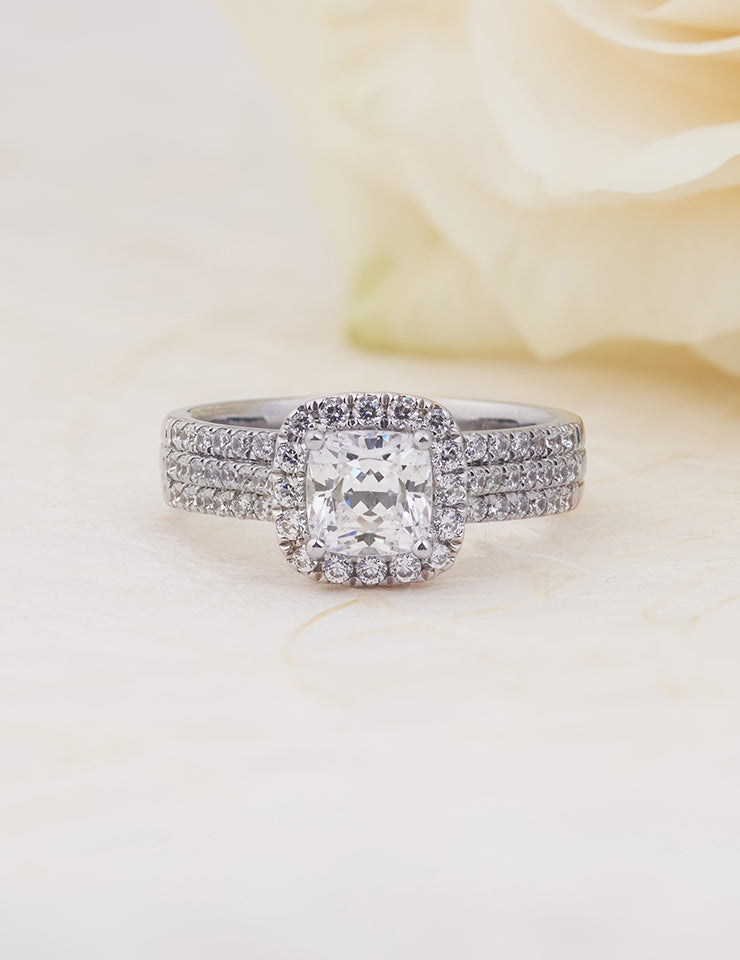 The ideal cushion cut diamond dimensions
The 'cut' of a diamond refers to the alignment of angles (facets), proportion and dimensions of a diamond.
These elements determine the sparkle and brilliance of a diamond. Diamonds graded based on their cut as either; excellent, very good, fair and poor. Also known as 'pillow cut' diamonds, cushion cut diamonds are square or rectangle in shape with rounded corners. Cushion cut diamonds have larger facets which increase their brilliance and emit large flashes of light and sparkle.

All diamonds in the Simon Curwood Diamond Collection are guaranteed to be non-recirculated, ethically mined diamonds. All SC Diamonds are hand selected by our international diamond buyer, undergo rigorous quality control and are each certified by the same independent diamond agency, ensuring consistency and brilliance with each SC Diamond. Learn more about the 4's C of diamonds here.
Custom design a cushion cut engagement ring
Create your dream custom made cushion cut diamond engagement ring with Simon Curwood Jewellers world class design concierge.
Our experienced design team will guide you through each step ensuring your engagement ring is as unique as you are.

Have a one on one creative consultation with our design concierge with complimentary champagne and craft beers to get the creativity flowing. An interactive 3D model of your ring will be created by our design team for you to approve. Once approved your ring will be engineered with exceptional craftsmanship by our jewellery atelier and arrive in store within 3 to 12 weeks.
Why Design an Engagement Ring with Simon Curwood?
World-class design concierge
Simon Curwood Jewellers offers the ultimate in luxury experience with an exceptional creative team ready to help you create the engagement ring of your dreams.
3D model rendering
Our 3D model rendering offers a fully interactive experience - you control the view with a 360 degree rotating view of your custom made engagement ring.
Custom CAD casting
Our custom CAD casting is the most advanced in the industry, offering millimetre precision of your approved design.
Express production
Our express production time means you receive your custom made engagement ring sooner - with an average production time of 3-12 weeks
Frequently Asked Questions
What does cushion cut diamond mean?

A cushion cut diamond is essentially a square cut diamond, with rounded corners. The result is a diamond that looks like a cushion, hence its name! Cushion cut diamonds have become increasingly popular as the hero centre stone of the on-trend 'halo' style of engagement ring.
What is a modified cushion cut diamond?

Cushion cut diamonds generally have one of three facet patterns. A "modified" cushion cut has an extra row of facets. These modified cuts tend to have a "crushed ice" facet pattern. They are similar to a radiant cut.
Do cushion cut diamonds look larger than round?

A regular question we get asked is whether cushion cut diamonds look larger than round diamonds. When comparing per carat, cushion cut diamonds can have a slightly larger top (table) than their round counterparts. They also have bigger facets, which can give the impression that they are larger. However, round diamonds are more 'brilliant' than cushion cut diamonds, and that illusion can make them look larger.


So, when it comes down to it, both cushion cut and round brilliant diamonds look very similar in size (when comparing per carat).
What is a good cushion cut diamond?

The standards for cushion cut vary more than most other shapes, and your personal preference will determine which diamond you choose. Cushion cut diamonds often have better fire, but less brilliance than a round diamond, which is why people choose them.


Budget will always determine what criteria your diamond will possess. Our specialist staff can always help you get the best diamond for your budget.
Do cushion cut diamonds sparkle?

The way a diamond is cut makes it sparkle differently.


Cushion cut diamonds combine the balance of a radiant cut with the fire of a round brilliant cut. The cushion cut's 58 facets are larger, so they're slightly less sparkly than round cuts, who have a higher amount of scintillation overall. However, larger facets also means that the cushion cut diamond emits a lot of 'fire' – a different type of light.


The cut of diamond you prefer always comes down to personal preference – some people prefer the high fire of the cushion cut, and some prefer the brilliance of the round brilliant diamond.
FREE SHIPPING
Simon Curwood Jewellers offers free shipping within Australia for all orders over $99