Discover premium platinum rings
Platinum is a popular choice for engagement and wedding rings due to its strength and resistance to tarnish.
While it is considered the most durable of all metals used in wedding jewellery, it is more expensive than other metals due to its rareness and density.

Platinum is also known for holding precious stones in place for a lifetime – often a jeweller will use platinum in the prongs of a ring made of less durable metal, like yellow gold to ensure the safety of the stones in the setting. Platinum will never require rhodium plating like white gold does, because its natural colour is already like white gold.
Precious metal
Platinum is the rarest of all metals. It is quite scarce in the earth's crust, and only a small amount is mined annually. This makes your wedding jewellery even more precious and special.
Timeless style
Platinum is an exclusive metal, which is classic and stylish. It never tarnishes and will last a lifetime, holding precious stones in place forever.
Highly valuable
Due to its scarcity and weight/density, platinum is a highly valuable metal.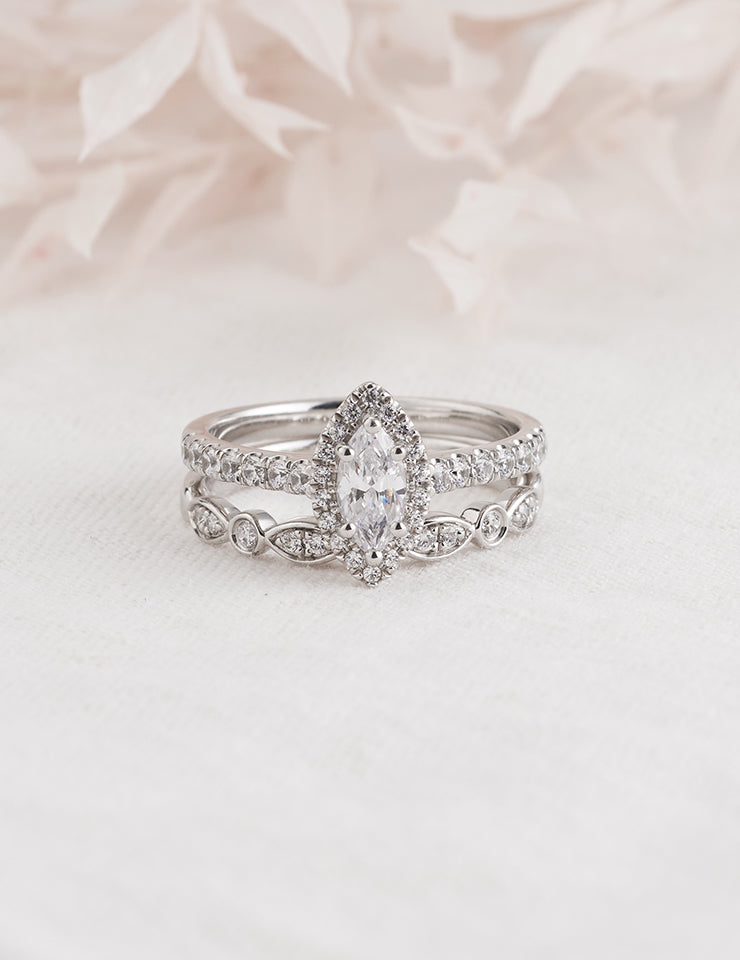 Custom-design a platinum engagement ring
Create your dream platinum engagement ring with Simon Curwood Jewellers world class design concierge.
Our experienced design team will guide you through each step ensuring your engagement ring is as unique as you are.

Have a one on one creative consultation with our design concierge with complimentary champagne and craft beers to get the creativity flowing. An interactive 3D model of your ring will be created by our design team for you to approve. Once approved your ring will be engineered with exceptional craftsmanship by our jewellery atelier and arrive in store within 3 to 12 weeks.
Frequently Asked Questions
What is a platinum ring?

​​A platinum ring refers to the band/setting of a ring being made of platinum – one of Earth's most rare jewellery metals. Most platinum rings are made of at least 90-95% platinum – making them the most dense and durable of all wedding ring jewellery metals.
Are platinum rings durable?

Platinum rings are the most durable of all the jewellery metals due to their strength and density. Unlike gold, they don't tarnish, and don't need to be rhodium plated to ensure their shine.
Can platinum rings be resized?

Most rings made from a precious metal, like platinum, yellow gold, white gold or rose gold, can be resized. As with any metal, it is best not to try and size down more than two sizes, as the ring can become unstable.
How are platinum rings made?

Platinum consists of 95% pure platinum mixed with an alloy of 5% iridium to offer strength. Because platinum is a coloured a luxurious deep silver colour it does not require rhodium plating. While it is one of the hardest of jewellery making metals, platinum is a malleable metal that can be easily shaped into intricate designs. Platinum rings are made by pouring liquid platinum into a casting. Once the metal has set, a jewellery atelier files and polishes the setting and lastly hand sets the stone/s.
Is platinum or white gold better for engagement rings?

A number of factors come into play when deciding on white gold or platinum for an engagement ring. Firstly, cost – white gold is more affordable than platinum in the short term. However, platinum is naturally silver in colour and doesn't need to be replated like white gold does (which costs money each time). Secondly, durability – platinum is more durable than white gold. It will never tarnish and is much stronger than white gold, due to its density. Platinum will do a great job at holding gemstones in place for a long period. Thirdly, the setting you'd like - as platinum is naturally harder, it isn't as malleable as gold. If you would like an intricate setting with fine metalwork, white gold is probably the way to go.

Finally – if you have sensitive skin, know that platinum is hypoallergenic. That means anyone can wear it, even if you have skin allergies (white gold often has nickel in it, causing people's skin to react to the jewellery).
Why are platinum rings more expensive than white gold rings?

Due to the density of platinum, more metal is required to make the same size piece as it would take to produce a white gold ring, and metal is measured in weight – so the heavier it is, the more expensive. There is also less platinum mined than gold, which makes platinum rarer, and therefore more expensive.
Why Design an Engagement Ring with Simon Curwood?
World-class design concierge
Simon Curwood Jewellers offers the ultimate in luxury experience with an exceptional creative team ready to help you create the engagement ring of your dreams.
3D model rendering
Our 3D model rendering offers a fully interactive experience - you control the view with a 360 degree rotating view of your custom made engagement ring.
Custom CAD casting
Our custom CAD casting is the most advanced in the industry, offering millimetre precision of your approved design.
Express production
Our express production time means you receive your custom made engagement ring sooner - with an average production time of 3-12 weeks
FREE SHIPPING
Simon Curwood Jewellers offers free shipping within Australia for all orders over $99