Rose gold engagement rings to last a lifetime
Rose Gold is created by blending gold with red and pink metals such as copper.
Rose gold is an excellent choice when it comes to rings, in particular engagement rings and wedding bands.

Simon Curwood Jewellers have a wide range of rose gold metal options including 9k white, 14k white gold and 18k white gold. Engineered with exceptional craftsmanship by our jewellery atelier, all Simon Curwood Jewellers rose gold Diamonds rings come with a lifetime diamond warranty and complimentary in-store cleaning for life.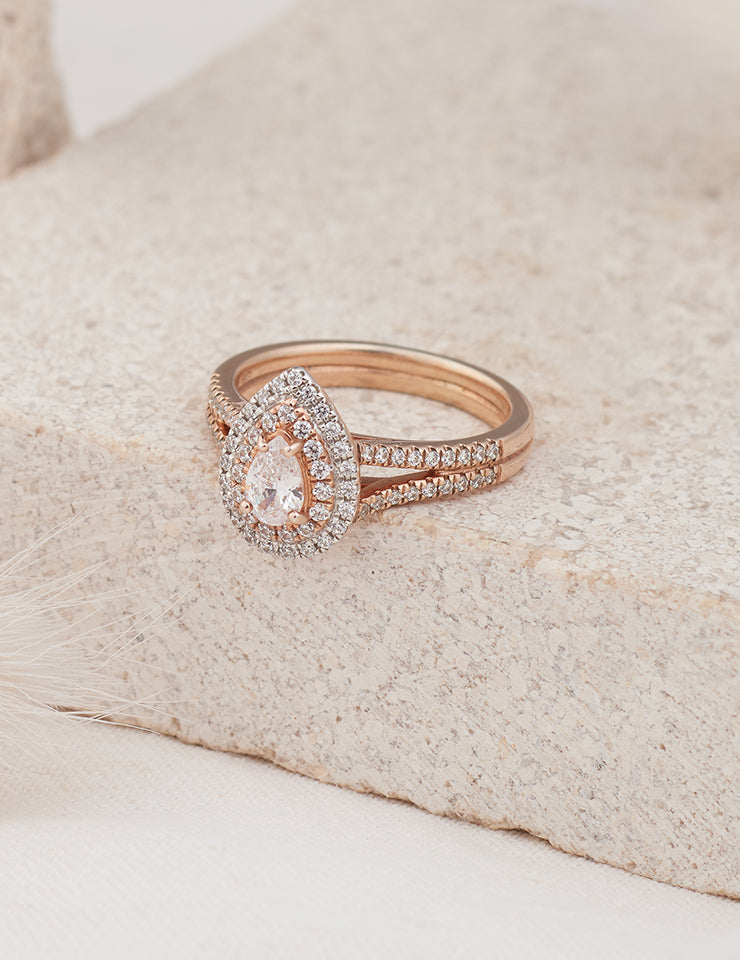 Design a unique rose gold engagement ring
Create your dream rose gold engagement ring with Simon Curwood Jewellers world class design concierge.
Our experienced design team will guide you through each step ensuring your engagement ring is as unique as you are.

Have a one on one creative consultation with our design concierge with complimentary champagne and craft beers to get the creativity flowing. An interactive 3D model of your ring will be created by our design team for you to approve. Once approved your ring will be engineered with exceptional craftsmanship by our jewellery atelier and arrive in store within 3 to 12 weeks.
Frequently Asked Questions
What is a rose gold ring?

​​A rose gold ring refers to the band/setting of a ring being made of rose gold. Rose Gold is created by blending gold with red and pink metals such as copper. Rose Gold is available in a diverse palette of alloying, the most common used in fine jewellery being 9 Carat (9k) 14 Carat (14k) and 18 Carat (18k). Gold in its most pure form, 24 Carat (24k) is most often too soft for fine jewellery intended to be worn daily.
Should I get a rose gold engagement ring?

Rose gold is the perfect option for vintage inspired design and engagement rings. The warm coppery tones of a rose gold engagement ring work fantastically when coupled with stone options such as diamonds, morganite and pink amethyst.
Are rose gold engagement rings popular?

In recent years, rose gold is making a steady comeback. At the turn of the century rose gold was a very popular metal choice and slowly over the years has had to share the limelight with other popular metals. The rose gold revival has been gaining traction through the jewellery industry due to a surge in vintage inspired designs making their way into the marketplace.
Is rose gold durable?

Yes, Rose gold is a durable option, slightly more durable than white and yellow gold due to the alloy mix of copper. Rose gold is sustainable for everyday wear such as engagement rings, pendants and earrings.
Can a rose gold ring be resized?

Most rings made from a precious metal, like platinum, yellow gold, white gold or rose gold, can be resized. As with any metal, it is best not to try and size down more than two sizes, as the ring can become unstable.
Why Design an Engagement Ring with Simon Curwood?
World-class design concierge
Simon Curwood Jewellers offers the ultimate in luxury experience with an exceptional creative team ready to help you create the engagement ring of your dreams.
3D model rendering
Our 3D model rendering offers a fully interactive experience - you control the view with a 360 degree rotating view of your custom made engagement ring.
Custom CAD casting
Our custom CAD casting is the most advanced in the industry, offering millimetre precision of your approved design.
Express production
Our express production time means you receive your custom made engagement ring sooner - with an average production time of 8-12 weeks
FREE SHIPPING
Simon Curwood Jewellers offers free shipping within Australia for all orders over $99